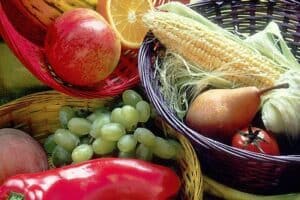 Fruits and vegetables are top of the nutritional food groups for good reason. Filling your plate with a variety of different fruits and vegetables on a regular basis is important for a number of reasons. For example, fruit and vegetables help lower your risk of heart disease and certain types of cancer, plus when you eat plenty of fruits and vegetables you are at lower risk of obesity.
Make sure you eat whole fruits and vegetables whenever possible as these provide fiber as well as nutrients. Keep a stock of fruits and vegetables easily at hand for snacks and cooking.
Here are the top five ways fruits and vegetables benefit your overall health and wellbeing.
Heart-healthy benefits: Vegetables and fruits contain many different nutrients that are linked to heart health. If you regularly get your fruit and vegetable fix you are at lower risk of developing heart disease, studies show. Fruit and vegetables also help to lower your blood pressure.
Cancer protection: Fruits and vegetables are protective against different types of cancer. The antioxidants in these foods are believed to protect the body against inflammation and damage, which leads to a lower cancer risk.
Dieting: Eating plenty of fruit and vegetables at every meal helps you feel fuller. When you feel full you are less likely to overeat and pile on the pounds. Fruits and vegetables are good for helping you maintain a healthy weight, or to lose weight.
Healthy body: Fruits and vegetables are low in calories, fat, cholesterol and sodium. Half of your plate should be filled with vegetables or fruit at every meal. Snacking on these foods is a healthy way to avoid hunger pangs.
Nutrition: Fruits and vegetables contain a powerhouse of different nutrients that help protect against disease and improve your wellbeing.
Different Nutrients in Fruits and Vegetables
Vitamin C: Beneficial for protecting against infection and helping your body absorb iron.
Iron: Healthy blood and a healthy heart.
Folate: Folic acid is essential for healthy red blood cells plus guarding against neural tube defects when pregnant.
Vitamin A: Good vision and healthy eye – protects against cataracts and macular degeneration.
Fiber: Important for the digestive system, helps avoid constipation, helps improve heart health and lowers the risk of obesity.
Potassium: Lowers blood pressure and is a beneficial nutrient for protecting against bone loss.