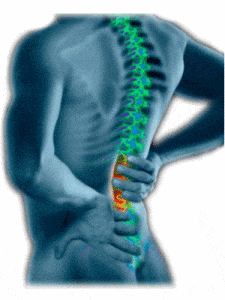 Low back pain can be caused by overuse of the muscles in the back or injury to the spine, as well as nerve pressure and health conditions like osteoarthritis. Low back pain is surprisingly common. You may think there's not much you can do to help heal a damaged back, except give it time. But there are actually many useful strategies for back care that can have you back on your feet in no time at all. Here's how to manage lower back pain without drugs.
Working Out and Resting
Have a good balance between activity and rest. You don't want to spend all your time in bed as this can actually harm your back in the long-run. But you need to be careful not to overstrain your back with excessive exercise. Keep your activity levels up with a program of gentle exercise. Make sure you stretch and warm-up properly before any physical activity.
When you rest, be sure to sit or stand using good posture. Slouching and sitting crumpled up in a chair will not do your back any good at all. Good posture is critical for healthy spines. Your desk chair should also offer good support, as should your mattress for when you rest at the end of the day. Try to sleep on your side in order to reduce the pressure on the spine.
Lifting Techniques
Never lift anything that is too heavy for you. If you are picking up a heavy object then lift using the correct technique – lift using your knees, not your back, while you pull in the muscles in your stomach and keep your head down. Never twist while you lift.
Professional Help
Visit a professional to get the correct diagnosis for your low back pain and also to find out how you can ease the discomfort through treatment and therapy. Go to a chiropractor or other back specialist sooner rather than waiting for the pain to go away on its own – the earlier you seek help, the better you will feel.
Diet and General Health
If you are overweight and suffer from chronic or recurring low back pain then it is advisable to lose weight so that you lessen the pressure you exert on your spine. Losing weight from around your waist is particularly helpful. Make sure you eat a healthy diet and you stop smoking. If you want to try something a little different, meditate or take part in a mindfulness activity that can help you cope with the pain and heal more quickly.