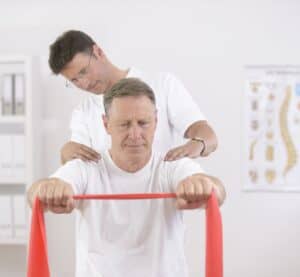 For those recovering from illness or injury, physical rehabilitation is often recommended to enhance the healing process.  An important physical medicine discipline, physical rehabilitation is a safe, effective, non-surgical way to promote healing and provide pain relief, and can be effectively used in conjunction with other therapy options like chiropractic and massage therapy.
A topic too broad to succinctly define, physical rehabilitation assists patients who are experiencing pain and difficulties due to a traumatic life change, like injury or illness. The goal of physical rehabilitation is to help patients regain function and independence, while addressing the limitations they might encounter in the future. It can be divided into five categories- orthopedic, cardiopulmonary, neurological, pediatric, and geriatric. Besides helping to heal injuries and relieve pain, physical rehabilitation can help strengthen muscle, increase flexibility, improve balance and coordination, and can even help patients prevent future injury.
The process of physical rehabilitation incorporates many healthcare professionals, beginning with the patient's primary care doctor, and including a physiatrist and a physical therapist (or more than one physical therapist). A physiatrist has very specialized training in physical medicine and rehabilitation, and is educated in the treatment of musculoskeletal injuries and acute and chronic pain syndromes, electro-diagnostic medicine used to diagnose neurological disorders, and rehabilitation for functional impairment and disability.  Physiatrists are physicians, and they can make diagnoses and prescribe therapies necessary for physical rehabilitation, which physical therapists will then put into practice.
Typically out-patient services, physical rehabilitation services are often recommended for people who have suffered a major trauma that impairs mobility, as well as those patients whose physical challenges may not be as extreme as, for example an amputation. Patients who haven't lost mobility may find themselves facing other, equally challenging, difficulties due to accident or illness. Physical rehabilitation addresses conditions as varied as arthritis, cancer, fibromyalgia, sports injuries, work-related injuries, back pain, osteoporosis, through techniques that include:
Heat and cold therapies
Electrotherapies
Massage
Biofeedback
Therapeutic exercise
And many other techniques designed to help patients deal with challenges faced in every aspect of their lives.
Embracing a holistic healing approach to wellness in a state of the art facility, Innovative Health and Wellness treats a variety of conditions using practices that include physical rehabilitation, chiropractic care, drug-free pain relief, and more. Using the most advanced diagnostic and treatment options, the medical team at Innovative Health and Wellness works to address the cause of each individual patient's health concerns, in order to find the right course of action to meet each patient's needs.