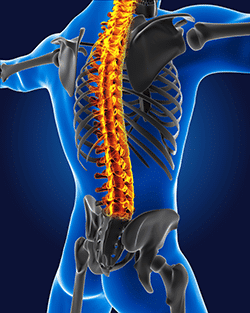 Trying to overcome and just deal with back pain is a losing battle for many of the patients we've seen in the Atlanta area. Back pain can be the result of herniated discs, muscle weakness, bone spurs, or failed back surgeries. All of these can causes significant back pain that over time, can have negative effects on your work life and your home life. Sometimes, you apply some at-home remedies that can help you to achieve temporary relief. Over-the-counter medications, ice and heat applications, and regular exercise and stretching can help to alleviate some of the back pain. However, over the long-term, these don't resolve the underlying issue. We strive to help you to not only treat the symptoms you're experiencing, but also the root of the problem. We utilize a holistic and integrated approach to healthcare so that you can get the most comprehensive treatment possible. Here are some of the services we like to employ to help you achieve a better lifestyle and healthier you:
Chiropractic practices go back for thousands of years, resulting in a very effective treatment for patients with spinal issues. Using gentle pressure and massage techniques we can reposition and adjust the spine to aid in posture and spinal issues. Patients often leave feeling rejuvenated since nutrients and water are released from the spine during the process. It often becomes a regular treatment for many people.
Utilizing a motorized table, we can gently stretch and elongate the spine to release pressure on it and promote relaxation and blood flow. This often releases essential nutrients that are beneficial to the healing process. This is one of the best methods for treating a herniated disc or a bulging disc issue as it can put the disc back in position.
When you have sharp pains in your back, it can be the result of highly irritated spots within the muscles that knot up and cause pain. This can be triggered through typical movements or simple tasks, making every day living frustrating. Trigger Point Injections work to relax the muscles, relieving the muscle pain and promoting blood circulation.
Physical Therapy at Innovative Health and Wellness is a comprehensive plan catered to the needs of each patient. Some of the treatments within Physical Therapy can include exercising, stretches, massage therapy, and medical pain relief. It is a completely holistic and integrated approach dedicated to improving the lifestyle of the patient and helping them reach their health goals.
Call us today about how to set up your FREE consultation at (770) 926-4646!