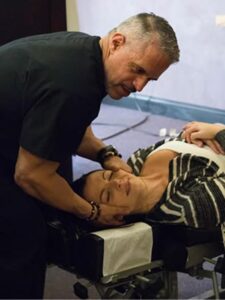 Three quarters of Americans will experience neck pain at some time in their lives. Neck pain can occur anywhere in your neck from the bottom of your head to the top of your shoulders.  It often spreads to your upper back or arms and may limit the range of movement in both your head and neck.
What causes neck pain?
Neck pain can be caused by a number of disorders in the neck. Examples of common conditions producing neck pain are neck strain, neck injury such as whiplash, a herniated disc, or a pinched nerve. Risk factors for neck pain include injury from involvement in contact sports, motor vehicle accidents, horse riding, etc.
Neck pain is most commonly associated with dull aching that is often worsened by movement of the neck. Other symptoms may include numbness, tingling, difficulty swallowing, and headaches. It can also be associated with shoulder pain and arm numbness.
Treatment for neck pain 
At Innovative Health and Wellness in Woodstock, we believe in treating the underlying condition of any health problem not just the symptoms. This includes a combination of chiropractic and traditional medical methods including medication to relieve the inflammation which causes pain and relax muscles. Medication while addressing the symptoms, does not always treat the original cause.  During your initial consultation some of our discovery process in to the proper treatment to achieve long lasting results will include such questions as –
When did the pain start?
What have you done for your neck pain?
Does the pain radiate or travel to other parts of your body?
Does anything reduce the pain or make it worse?
We will observe your posture, range of motion, and physical condition, noting movement that causes pain.  We will feel your spine, note its curvature and alignment, and feel for muscle spasm. In addition there will be tests of your reflexes, muscle strength, other nerve changes, and pain spread.
Once we have made a thorough evaluation of your condition, we can then recommend a course of treatment to correct what is causing your neck pain. This may include massage or physical therapy exercises to relieve stress in the neck muscles or chiropractic treatment to correct abnormalities which may be causing nerve and or muscle reactions that are resulting in your neck pain. We do not rely on one single discipline or "one size fits all" approach when treating your condition, we offer a customized treatment plan that is unique to each individual and their needs.
If you are suffering from either periodic or chronic neck pain, schedule an appointment with our Woodstock Chiropractic office at 770-926-4646 so that we can explore the treatment options that are best for your individual condition. You can also use the online contact form or Live Chat features here on our website to contact our office.
Image courtesy of marin / FreeDigitalPhotos.net